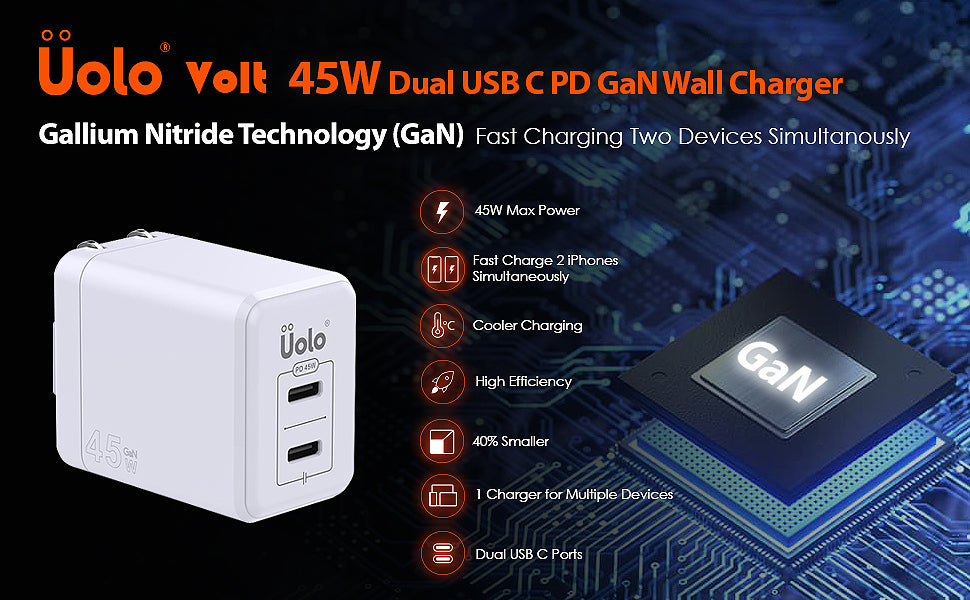 Uolo Volt 45W Dual USB-C PD GaN Wall Charger is 40% Smaller than Traditional Silicon Chargers
What is Gallium Nitride Chargers?
Uolo Volt 45W Dual USB-C Gallium Nitride (GaN) charger offer several advantages over traditional silicon chargers. One of the key benefits is their smaller size by about 40% smaller. GaN chargers require fewer components compared to silicon chargers, as GaN is able to conduct higher voltages over time. This not only makes GaN chargers physically smaller, but also more efficient in transferring current, resulting in less energy lost as heat. This means that more energy goes towards charging your devices, and you generally require fewer components for efficient energy transfer.
One of the advantages of GaN chargers is their potential to save energy and reduce power bills. More efficient chargers mean less wasted energy, which can lead to cost savings in the long run. While the impact may not be significant for low-power devices like laptops and smartphones, the overall efficiency of GaN chargers can contribute to energy savings and a greener approach to charging devices.
In conclusion, GaN chargers offer advantages such as smaller size, higher efficiency, potential cost savings, and energy efficiency compared to traditional silicon chargers. With the advancements in GaN technology and its wider bandgap efficiency, GaN is expected to become a superior choice for chargers in the future.